Time is ticking for TikTok
Students share their opinions on the controversial social media app TikTok that is under investigation for violating social security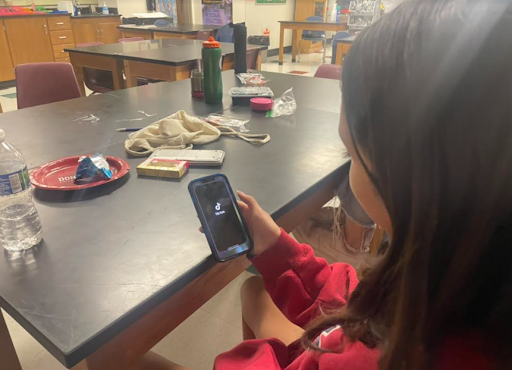 Since the comedic dancing app Musically was changed to TikTok in August, 2018, it has grown enormously in popularity. TikTok is now one of the most popular and known social media platforms, and has over 150 million users in the USA alone according to TikTok, and over a billion users globally. 
Gen Z and millennials contribute to more than three fourths of this total, with 71.3% of all TikTok adult users being 18-34 according. According to Omnicore Agency, which has the latest statistics revolving around TikTok, the average time spent by a user per day is reported to be around 95 minutes, which would average to around 11 hours a week. It is a safe space for many, as no matter what they are going through, they can always find people going through similar situations online.
 This wildly controversial platform is currently being debated over whether or not it should be banned due to the fact it is owned by a Chinese parent company called ByteDance.
Member of the House and Foreign Affairs Committee Michael McCaul said,  "Anyone with TikTok downloaded on their device has given the CCP a backdoor to all their personal information. It's a spy balloon into their phone." 
The Federal Communications Commission and the FBI are concerned that ByteDance is sharing private information such as location, browsing history and biometric identifiers with the Chinese Communist Party (CCP). Shou Zi Chew, the chief executive officer of TikTok recently had a hearing in front of the House Committee on Energy and Commerce, to defend this app. 
In a hearing held by Congress in March, Chew said, "If protecting national security is the objective, divestment doesn't solve the problem: a change in ownership would not impose any new restrictions on data flows or access…" "The best way to address concerns about national security is with the transparent, U.S.-based protection of U.S. user data and systems, with robust third-party monitoring, vetting, and verification, which we are already implementing,". 
With the current controversy, students share their opinion. 
Macy Houdeshell (10), an avid user of TikTok who spends around an hour and a half a day on it, said: "I don't think TikTok should be banned because it goes against the First Amendment." 
Julia Gall (11) has an average screen time of 5 hours and 23 minutes per day, with TikTok being none of it. 
"Personally, I do think it should be banned. Maybe fewer kids would be spending hours on end hooked to their phones, China may have less personal information about US residents and national security would be stronger," Gall said. 
Many other countries, such as India, Pakistan and Afghanistan, have already implemented restrictions, temporary bans and complete bans on the app. It is also banned on government issued devices in Canada and Taiwan.
The government is not the only ones who are not in favor of this app. Many parents don't allow their kids to have the platform because of its 10-60 second videos, which have been proven to lower attention spans. 
"I think it [TikTok] has affected me positively and negatively. For example, it makes me laugh and I can find videos that I relate to, but I also think it has made me less concentrated and more distracted," Houdeshell said.
Many users have claimed that since downloading the app, it has been hard for them to focus on schoolwork, be able to finish a movie, and even be able to finish 15 minute Youtube videos. Some do not believe that the government is banning TikTok not solely because of the fact that it is a Chinese company, but also because it is a way for people, mainly young people, to receive and spread information at an extremely fast pace. 
"I get my news from TikTok but then I usually double it if it is something that I care about," Houdeshell said.
Project Texas is currently the first choice for what to do about this controversy. TikTok says it would consist of U.S. tech firm Oracle acting as a third-party monitor. TikTok has since pledged to finish the project by the end of the year, but some lawmakers have questioned if it is realistic given the need to evaluate so much information in such a short amount of time.