Broadway Bootcamp
On Feb. 10, a Broadway director and playwright came to Oakwood to teach a masterclass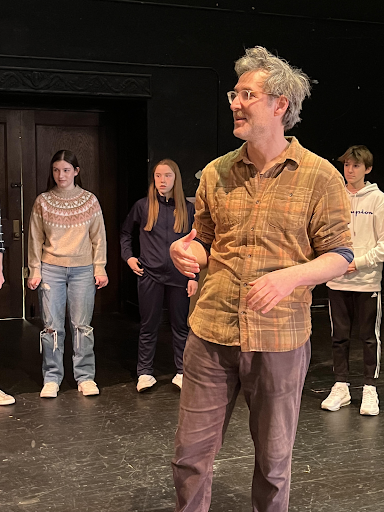 On Friday, Feb. 10, Broadway director, playwright and NYU professor Jonathan Bernstein arrived at Oakwood and held a masterclass for students who are part of the performing arts programs.
Bernstein is the artistic director of The Performing Arts Project (TPAP) and was in town to run auditions for the camp at Wright State, which is why he was able to bring his expertise to Oakwood.
Participants were excused from their afternoon of classes and went to the auditorium to take part in numerous games. These activities included making shapes and images with their body without being able to communicate with each other, and improving fun scenes on the fly. The aim was to teach on-stage fearlessness and awareness, while staying present in the moment. The masterclass was courtesy of TPAP, and Bernstein promoted the camp to students by handing out flyers with audition information so they could further their performing arts experience.