Senior Spotlight: Captain of the fields
Highly rewarded field hockey player and cross country star Bella Butler shares her stories and advice to fellow sports players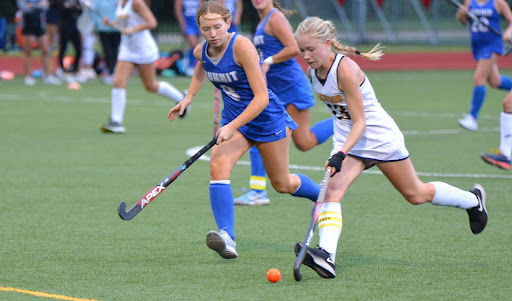 Bella Butler (12), second team all-state in field hockey and winner of the D2 state meet for cross country, wasn't always the star she is today. Like all athletes, she had to start somewhere.
"I started at a 6th grade field hockey camp in which the head coach at the time, Coach Miller, told me that he looked forward to me being on varsity," Butler said. "That motivated me all throughout junior high to become the best player I could so I could one day join the high school varsity team."
Field hockey and school are already hard enough to manage, and having another sport on top of that makes it even more difficult. Being a field hockey player and cross country runner required Butler to make sacrifices.
"I got lucky, because most years cross country and field hockey practices took place at different times," Butler said, "Usually, I would go to cross country and go to field hockey right after since they were both at Lane. I also talked with my coaches to resolve any conflict between meets and games."
Sports play a big role in teens' lives. It gives them goals and passions, and it is a distraction from the drama and stress they face everyday in school. It builds teamwork and problem solving skills, and even helps teens make friends. 
"It's been really fun," Butler said. "It's been great to do something I love for the past seven years. It makes me really happy and gives me goals and things to focus on." 
Besides having fun, sports can help teens learn how to overcome real problems and can teach them valuable lessons that can help them in the future.
"Sometimes you don't see improvements right away even though you're trying your hardest and practicing," Butler said.  "It takes time to really develop and improve to the best of your abilities.
It takes lots of practice, dedication and positivity to get better at a sport. Butler shares how she has most improved since first starting field hockey.
"I think that my field sense has improved a lot, just knowing where to go on the field cause I was really confused about that in the beginning," Butler said. "I think I've also gotten much better stick skills and my technicality has improved."
Butler and her skills are an inspiration to many of her teammates, including Macy Houdeshell (10).
"Bella was a great captain. She is one of the most, if not the most, talented players I've ever played with and is a great leader on and off the field with her positivity and kindness," Houdeshell said. 
Another teammate, Itzel Keaton (11), shares what Butler contributes to the team. 
"She has brought everything you dream of to the team. Her positivity and bright energy always motivates us in tough games and she is looking to improve as a team, not just individually," Keaton said. 
Even though Butler is the inspiration for many, she also had her own idols in field hockey that she looked up to who made her how she is today.
"There was an old player on my team, Peanut Johnson, I never played with her," Butler said. "Probably one of the best field hockey players Oakwood has ever had, and she was captain at OCU, and she has come to coach us a few times over the summer so I definitely look up to her."
Butler may be a senior and at the end of her high school career, however, she says she is not done with field hockey just yet.
"I'm planning on hopefully continuing field hockey, either club or DIII probably, but I'm still deciding on what school I'm going to," Butler said.
Starting a new sport or moving from the junior high team to the high school team can be stressful and even scary. Many feel like they won't fit in or won't have any friends, and feel like they might not be good enough. Butler has had her fair share of new experiences, and hopes to make it easier for incoming people in this situation by sharing the best piece of advice she learned from a fellow field hockey player.
"You should believe in yourself more," Butler said. "You have more capabilities and potential than you might think. Keep at it and you'll see it eventually."