Ten times the fun
Academic Decathlon team starts season hoping to defend their title as ten-time national champions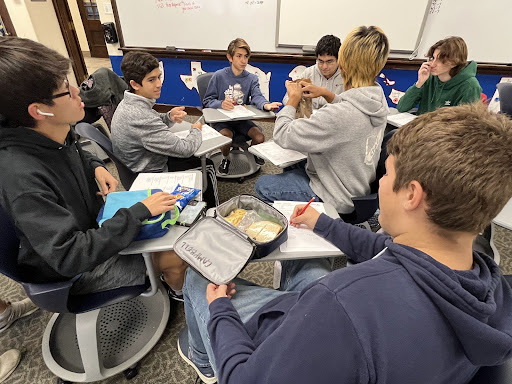 The outlook for the rest of the Academic Decathlon season is promising after the first place win on Nov. 12, 2022. 
They plan to continue to study to continue to do as well as they did in their first competition. The group has an essay competition Nov. 17.
"We have all the parts in place so far that we typically do. Students are meeting with their study groups every week," Coach Lori Morris said. "They met during the summer to build that collaboration."
Students study ten different sections under a broader topic. Last year, the topic was water and this year it is the American Revolution that students are diving into. Students study the sections and participate in competitions where they take quizzes and answer as many questions correctly as possible. They then earn points based on how well they perform as a team.
"Last year's season went very well, especially coming out of COVID-19," Morris said, summarizing the previous season's performance. "Won our tenth national championship last year. We had some of the highest scoring students in nationals."
Students put in a lot of effort to study the topics so they can do as well as possible in the competitions. They must be dedicated to their studies and the team in order to do well.
"Dedication plays a role by showing who really cares about the class and it teaches life lessons about putting in work and seeing results," Brian Fischer (11) said. 
The students care a lot about the class and put in as much effort as they can. Study teams meet together to practice and work together. 
"We have a really good program that was built under our coach, Mrs. Morris," Joseph Hong (10) said. "Years and years of work and study technique built into what we have now. Studying strategies have been built into this program in essay, speech and interview. Everything is passed down and that's what makes this program so great. We now have strategies from alumni that help us very well, and schedules as well."