Students welcome new staff
Each year Oakwood sees new teachers, and this year is no exception. This year's new teachers are Aaron Hundley, Jordan Millard and Brian Polk.
Jordan Millard
Q: How long have you been teaching?
A: This is actually my first full year of teaching.
Q: Which do you prefer, band or orchestra?
A: I really enjoy just orchestra. This is the dream job I was hoping to get. I was fortunate enough to land it right out of college, which is unheard of since it is one of the few orchestra jobs in the state. Going for this was a long shot and crazy enough, I'm here. I absolutely love working with all the age groups and the high school students especially.
Q: When did you realize you wanted to be a teacher?
A: It wasn't until I auditioned and got into Dayton Philharmonic youth orchestra and got a full ride to an orchestra camp. I made it to the honors quartet there and I thought I had a shot. I loved coaching and I was encouraged by other teachers. So far, I've been doing all right.
Q: What has been your most memorable moment at Oakwood?
A: Winning spirit king was very shocking. Having students come say,
"Hey, would you like to be in the homecoming court?"
I said, "What do I do?"
They said, "You just smile and wave and act really excited,"
I said, "I can do that."
[As it] turns out, I was the king. I didn't know that. It was pretty cool.
Q: What are your goals for your first year?
A:[My goal is to] get the Cherry Pie Concert to be just as successful, if not more than last year. I would also like to get things put in place for trips in the future.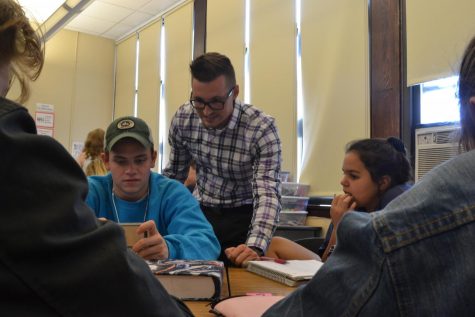 Aaron Hundley
Q: How long have you been teaching?
A: This will be my third year.
Q: When did you decide to be a teacher?
A: I would say [I decided] when I was in highschool. My mom taught middle school. I did some other volunteer things where we worked with fifth and sixth graders. We called it 'Project Charlie' and it was kind of like D.A.R.E.
Then college came and I still wanted to teach all the way up until senior year, here I started having second thoughts; everybody has second thoughts. Senior year is weird because you're about to graduate and everybody asks, 'what are you going to do next?' I was scared of moving forward and wanted to explore all my options. I had an undergrad in math so I thought maybe I'd do something with that. I went to a career fair and felt completely out of place. That's when I knew I wanted to teach.
Q: What are your favorite memories of teaching?
A: I have a set of letters that kids have written me. I like to read those on the bad days.
Q: Do you have a favorite memory at Oakwood?
A: Yesterday I had a student say, 'Math is really cool,' and she thinks it's exciting to see how it's coming together. She said she enjoyed the class and she feels things are going well. As a new teacher in a new building, that was good.
Q: Did you come to Oakwood and find we did things differently?
A: [I found that for] pretty much everything. There's no copy code on the copier, they don't monitor how many copies you make. The hour lunch, but you knew I would say that. The fact that there aren't parking spaces. Also, I've heard they don't do snow days here.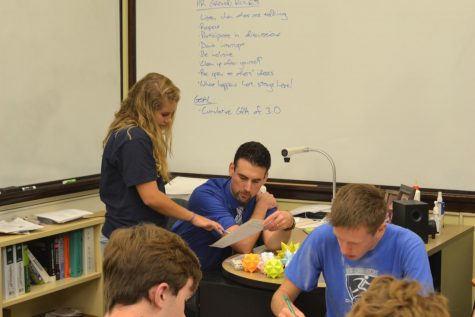 Brian Polk
Q: How long have you been teaching?
A: This has been my thirteenth year. The last seven years I've taught at the Dayton STEM Schools and the first five years I taught in the Detroit, Michigan public schools.
Q: How is Oakwood similar or different from the other schools you have taught at.
A: Obviously, Oakwood is quite different from Detroit and the biggest difference between the STEM school and Oakwood is the access to resources. In a lot of ways, Oakwood and the STEM schools are pretty similar. There were very high expectations, the students expect each other to do well, and the staff expects each other to work well. My experience there has made the transition [to Oakwood] easier.
Q: When did you realize you wanted to be a teacher?
A: [I realized] very early. I was actually in fifth grade. My math teacher had everybody create a "shopping worksheet" where we put together a worksheet with different problems related to shopping. Every week we would have one of these worksheets. My father was a tax attorney, so I was a little hot shot and my shopping worksheet dealt with percentages, which we hadn't learned yet. The teacher, instead of making me rewrite the worksheet, asked if I wanted to teach the class percentages. I said "Sure!" and I loved it. I realized it was the kind of thing I wanted to do and that I really enjoyed working watching that "Ah ha" moment.
Q: Was there a moment at Oakwood that is your favorite so far?
A: The first or second weekend after school started and I went to pick up bagels at "Barry Bagels."  As I walked out of the store I heard, "Hey Mr. Polk!" and I turned around to see one of my students who was arriving for work. It was a reminder that this is a small community that I am a part of now and this is the first time that I have had the opportunity to teach where I live. That's something I'm really excited about.
Q: Do you have any goals for this year?
A: Survive and advance. I want to do the best I can for the students and spend the summer reflecting on how things went the first time through so I can hit more of a stride next year.
Photos by: Quinn Murray
By: Quinn Murray