Senior Spotlight: Leaving a mark through leadership
Yetta Krummel-Adkins talks about her time as a NHS officer and what her future holds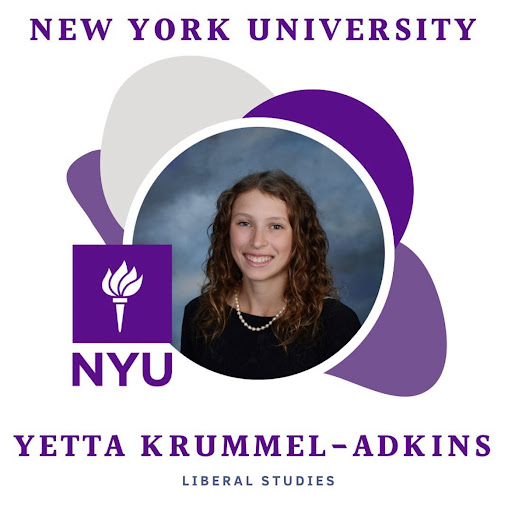 As many seniors leave, many also leave their mark on Oakwood and Yetta Krummel-Adkins is included. Yetta has been a part of National Honor Society since 2021 becoming an officer her senior year and growing her leadership skills. For those who are unaware, the NHS is a nationwide organization that promotes four pillars: service, character, service, and citizenship. It is an exclusive club that promotes academic success, citizenship, and volunteer work, and Yetta has proved that she has all those qualities to do the work at hand. 
"I helped lead meetings and organize volunteer initiatives and opportunities and organize the supply drive with the Artemis Center for the winter initiative this year," Krummel-Adkins said. "I really liked the Artemis Center supply drive because it really felt like a good way to help out in the community and we had a great turnout of people who donated"
It takes a lot of drive to organize not only events but people, considering NHS has 124 members as of this year. Which to many can be an overwhelming number of people to help lead, but to Krummel-Adkins it's worth it. 
 "It is important to help out in the community and be kind to people," Krummel-Adkins said. 
While the task at hand seems daunting Yetta is joined by her other senior officers Elena Ware, Grace Bauer and Katie Picca along with adviser Brittany Juhas . When asked about what made Krummel-Adkins a great NHS member, Juhas only had positive things to say.    
"Yetta took on the shared responsibility to lead 124 members. In my time with Yetta, I think what makes her a great leader was her ability to manage her time between her busy schedule and helping out the organization," Juhas said.
Krummel-Adkins has been very busy indeed as she will be attending NYU starting in the fall, which has an acceptance rate of only 13%
"I'm studying in the Liberal Studies Core for the first two years before transferring to the College of Arts and Sciences," Krummel-Adkins said. 
And while Oakwood will be sad to see her and her fellow classmates graduate, Krummel-Adkins is very excited to move on to the next chapter in her education and life. 
"I am excited to explore all the fields of study that interest me. I'm not sure what career yet but I am interested in languages and international relations," Krummel-Adkins said.
With Yetta leaving along with the other NHS senior leaders spots as NHS officers will be opening up soon to all juniors going into their senior year. Officers, according to Kummel-Adkins, need to have some of the following traits to make them the best they can be.
"I think you need to be a good leader and someone able to work independently to create initiatives," Krummel-Adkins said.
If you're in need for service hours, be on the lookout for future NHS initiatives where everyone is welcomed to pitch in and help out, similar to Krummel-Adkins 
"I have really just learned to be myself and what makes me happy. I have made so many great friends and experiences in Oakwood through classes, sports, clubs, and more," Krummel-Adkins said.