Blast from the past
A look at Oakwood High School in the 1930's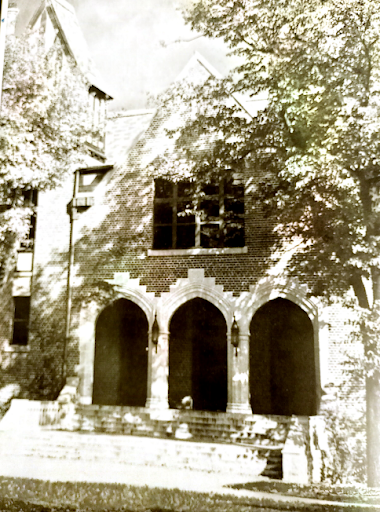 Everyday the students of Oakwood High School walk through history without even realizing it. To this day, we learn in the same building that was finished in 1924, with an original graduating class of nine people. Now, as the 100th graduating class is set to leave in the spring, how has our school changed over time? 
"[In] 1924, the first graduates never actually attended classes in the new building, but they completed their degrees at the Oakwood School, which is now Harman," Linda Pearson said. 
Pearson is the education coordinator at the Oakwood Historical Society. She offered a brief history of the school, along with Debra Edwards, President of the Society, and David Schmidt, former board member and active historian. Schmidt and Edwards put together a paper explaining some Oakwood High School history. They explained how Harman was Oakwood's first school, adapted from a barn, and taught kids grades 1-8 and then sent them to outside high schools for a higher education. Finally, Oakwood decided to make a high school of its own. 
"In 1922, the Oakwood School board purchased 10 acres from Clifford C. Harman, a descendent of Gabriel Harman on land that was once the site of Gabriel's original farm house. The board later authorized a $450,000 bond. The building was completed in the fall of 1924,"  said the paper.
Once the high school was completed, the graduates marched into the high school with a parade, which was replicated at the 25th, 50th and 75th anniversaries of those graduating classes. Perhaps it will be repeated again this fall. Not only does Oakwood have traditions with parades, but also with the boulder outside the school. 
"It is thought that the 'rock' that is painted by seniors each year has been in place since the original Harman farm," Schmidt said. 
There also used to be statues decorating the school, found pictured in the 30's yearbooks. One statue depicted an image of Minerva, Roman goddess of wisdom located outside of the front office. Another was a bust, named "George" in the 1939 Acorn, and yet another statue depicting a headless woman with wings. 
"[The statues] brought character and pizzazz to the school and you can tell people put a lot of effort into them, and they are impressive," Kat Shannon (10) said.
Finally, changes have been made to how we organize our yearbooks, as in the 30's they would vote on who had the best hair, laugh and other qualities, called senior superlatives. 
"One change I noted is that we don't do senior superlatives. That is one thing I wish we did. Although being ranked by your teeth and lashes is not what I was thinking," Tabitha Kisker (12) said. 
From the random rock students paint out front, to the same steps that students walked in the 1920's, we are surrounded by history everyday. What could you learn by looking into Oakwood's history more?