Jacks and Jills bring the heat during winter season
Jacks and Jills put up the points on and off the court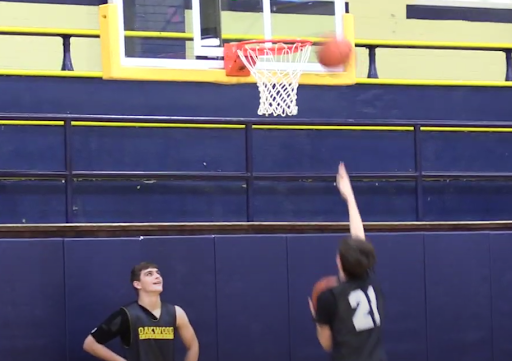 Coming up with the new year, the basketball and wrestling teams have both been working hard for this season, and are ready to bring home victory, medals and glory. 
The new wrestling season started off with the coaches and the athletes having high hopes and spirits. Coach Jay Lane stated that he has witnessed immense individual improvement within the varsity wrestling team, and they've got the scores to prove it. 
"We've won three out of four, or four out of five of our duels," Lane said. "And we placed second in a tournament down in Cincinnati." 
From Dec. 2 to Jan. 28 the Oakwood varsity wrestling team has collected a total of 1052.5 points. Some notable wins are their match against Fairborn with a score of 50-26 on Jan.11, and their two day long invitational tournament with Madeira City Schools where they had a score of 179 points, where they made it to second place by winning the bonus round that determined tournament placing. 
"Madeira wrestlers won 4-5 that round, and our wrestlers won 6-3 that round, and that's how we jumped from 4th to 2nd place because of the quality of their wins at the end of the night," Lane said.
With the wrestling team consistently placing 1st, 2nd, or 3rd in seven out of the 10 matches they've had so far, the future sure is looking bright for our wrestlers. 
As for basketball, the boys varsity basketball team won 11 out of 15 of the games they've had so far, with their most recent game being against Franklin High School on Friday, 
Feb. 10. With a score of 81-53, this was a close game. Some other notable winning matches include another game against Franklin, (72-50) and against rival school Bellbrook, (60-47). 
The girls varsity basketball team has had a total of 18 games thus far, with 10 of those games being wins. They started off strong this season with a winning streak from Nov. 22, to Dec. 3 in 2022, and they continue to persevere throughout the basketball season. With a recent match against Tecumseh being 75-63, and several other matches where they come out on top, there are definitely some high hopes for further games, matches and events. 
"When I'm out there on the court, my mind is completely and entirely focused on the game," Caroline Roelle (9) said. "I love the feeling when I make a big play for the team, it is the best feeling along with winning."
Oakwood's swim team has been succeeding this season as well. With a grand total of 1777.7 points won as of Feb. 11, and placing 1st or 2nd during 10 out of 12 of their meets, the swim team hopes to continue this trend during the rest of the season. Ten swimmers will be advancing to Districts next week. 
"I feel pretty good about this season, it's definitely been fun and everyone has improved a lot," Alayna Brown (9) said.  
With the winter sports season starting off strong for swimming, basketball and wrestling, there seems to be victory in the future for OHS sports. Hopefully, we'll see many more wins coming from our school's athletes as we continue to update and report scores as this season progresses.