State Ready
OHS's Speech and Debate team looks beyond a regular season and over half qualify for state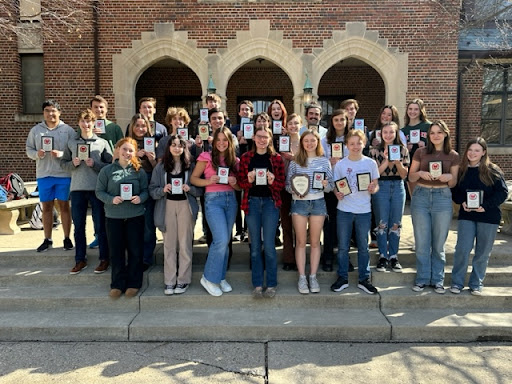 At the beginning of the second semester, Speech and Debate reached the middle of their season. 
On Feb. 4 at the Columbus-GMV District Tournament, Lincoln and Douglas debate got 1st place in three out of the four spots. On Oct. 22 at the Centerville TournaShop, Oakwood got first place in the Lincoln and Douglas debate. On December 16-17 at the GlenOak Adult Booster Club Debate Tournament, Oawkood came second place.
About half of the students in Speech and Debate qualified for state, and on March 3 they competed at their state qualifying tournament in Youngstown. Some of their best scores include: Oakwood placing 9th out of 83 teams at state, Marcela Strombeck (11) and Anna Munk (12) making it to semifinals at state for congressional debate, Henry Almoney (10) placing Oakwood in 4th place for humorous interpretation, and Tristan Williams (10) placing Oakwood in 4th place for the Lincoln-Douglas debate.
"I'm in the Lincoln Douglas debate, so my preparation consists of writing a case for each side of our given resolution and preparing responses to the other side. It ends up being over a hundred pages of work," Debate student Robert Einhorn (10) explained.
Practicing for Speech and Debate is very important. Students may practice for hours at a time so they can memorize the facts that support their topics and reason through them. As they say, practice makes perfect.
"Hours and hours are put into making my presentation flow and interesting, it is also constantly changing and being edited," Evie Davis (9) said. "Depending on whether I have a tournament that weekend I will practice from one hour to four hours a week."
Speech and Debate can be a lot of work between studying and outside of school activities.
"It's really stressful being in competitive debate rounds but when I'm in the zone I'm focused and confident," Einhorn (10) said.
Despite all the hard work and time they have to put in, students still find interest in it.
"I got into Speech and Debate through my friends. The people around me seemed interested in it. Also, I found myself passionate about politics and I enjoy public speaking," Anna Munk said.
Speech and Debate is a great academic activity for a student. It helps many students get into colleges and can improve grades. It can also improve your mind mentally. Speech helps improve confidence because it encourages students to be more willing to stand up and speak out loud. Debate helps students think deeper in order to argue against other teams. Consider joining Speech and Debate, as the team would be very grateful for others to join and help the team keep going to state in the future. 
As of now, Liam McCarty (12) and Jacob Sayer (11) both qualified for nationals but opted to not attend, therefore Eva Meehan (9) and Reese Dunnington (9) will be competing in their place.