Choir charms
Oakwoods Concert Choir, Symphonic Chorale, Anthem and Synergy give a smashing performance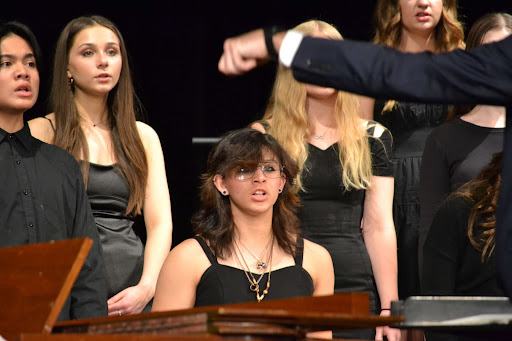 On Wednesday, May 10, choir and A cappella holds a concert in the auditorium. This was the last choir and acapella concert of the 2022-2023 school year, which had songs ranging from "Cantate Domino," by Giuseppe Pitoni, to "Crazy." By Gnarls Barkley. This performance was definitely one for the books. 
Starting off with choir, the songs performed were "Who Knows Where the Wind Blows?" by Joseph M. Martin, "Cantate Domino" by Giuseppe Pitoni, "Shut De Dō" by Randy Stonehill, and "Bye Bye Blackbird" by arr. Jay Althouse. Although the singers used their vocal chords for most of the show, Evie Davis (9), Callie Hayes (9) and Frances Michalec (9) were using percussion instruments for the song Shut De Dō.
The next group to perform was Symphonic Chorale, who performed a total of five songs. Those songs included "Earth Song" by Frank Ticheli, "The Awakening" also by Joseph M. Martin, "Esto Les Digo" by Kinley Lange, "Salmo 150" by Ernani Aguiar, and "Omnia Sol" by Z Randall Stroope. Esto Les Digo contained a solo by Abby Spitzmiller (12). 
Following Symphonic Chorale was the first acapella group, Anthem. They sang "Crazy" by Gnarls Barkley, "Never Ending Story" by Limahl, "Crazy Little Thing Called Love" by Queen, and "Carry on my Wayward Son" by Kansas. Each of these songs has a soloist, those soloists were Edie Addison (9) for Crazy, Cooper Schairbaum (9), and Elina Espy (9) for Never Ending Story, Griffin Greear (9) for Crazy Little Thing Called Love, and finally, Frances Michalec (9) singing for Carry on my Wayward Son. 
The last performers of the evening were Synergy, who brought us a very captivating performance. The songs they performed were "Valerie" by Amy Winehouse, "Shallow" from A Star is Born, "Rumor Has It" by Adele, and to finish up the evening, "Lean on Me" by Bill Withers. Once again all these songs had solos for every song who I will now list. Emerson Davis (12) sang "Valerie", Joey Schairbaum (12) and Sam Spowart (12) sang "Shallow", Annie Neff-Isom (12) performed "Rumor Has It" by Adele, and finally, Spitzmiller sang the song "Lean On Me" as a grand finale. 
The lineup was enjoyed by the audience and executed expertly by students. Students and parents can look forward to more concerts on the way for the upcoming 2023-2024 school year.