Under the City Building
Exploring the Oakwood Archives right under our feet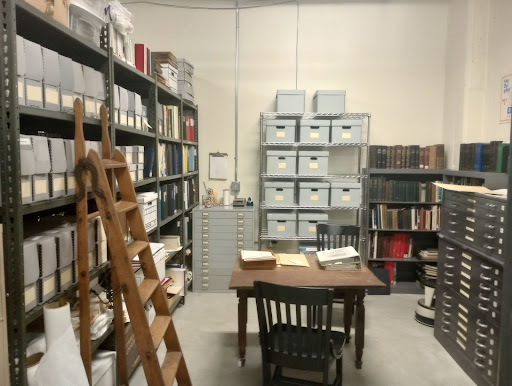 You probably don't think anything of the Oakwood City Building, but there is much more to it than meets the eye. Old records, photos, yearbooks, maps and more are stored in the Oakwood Historical Society Archives underneath the building. 
"This place was neglected for a really long time…You could not even walk on this floor there was so much stuff," Debra Edwards said.
Edwards is the President and chair member of the Oakwood Historical Society. She has been restoring the archives for some time now. 
"We've already been through some of this stuff, we've already reordered the books, and we've put in things like metal bookcases instead we had old wood bookcases and they were kinda warped and it was just books stacked everywhere," Edwards said. 
Because of the disorganization, not everything could stay. 
"Some of the past people who were in charge here, they used it as like their second attic for at home… So our first step in trying to redo this area was getting rid of the things that weren't really important to us," Edwards said. "You know there was stuff that didn't even pertain to Oakwood. Just people's personal things. Like those tupperware boxes up there, you don't usually keep archives like that, plastic is not good. We're getting to those, we've already been through and we've weeded those down." 
But what does stay is very interesting, from house records, to detailed maps from the 1920's, to postcards written by Orville Wright, to old grocery bags from DLM. 
With all of these items, help will be needed to fully clean up and organize the archives. As well as some seniors taking on the task of cleaning up and reorganizing, the society is soon bringing in an expert on archives named Bill Stoley. 
"We had to get [the archives] in somewhat shape before he came, so we didn't scare him off, but we do have a few things that we are going to be asking his opinion on before we go any further," Edwards said. 
With all of these important primary sources just below our city building, should more people know about it?
"I would've liked to know about this in the past, because Dayton has been very involved in wars and was a big industrial city, so it's pretty cool seeing that big part of our history in person," Catie Brenner (9) said. 
The archives, with all of their history, may be intriguing to other students. 
"It seems like a cool place, I would like to go," Ozzy Edmonds-Wert (9) said. 
Oakwood's Historical Archives are a collection of primary sources about our small town like no other, right under the building. For a tour, you can attempt to arrange an appointment by looking for more information on the Oakwood Historical Website, and arranging a tour with Edwards. Did you know?