Can't hide our pride
Students show their spirit this week as Oakwood led up to the big pep rally and game against Bellbrook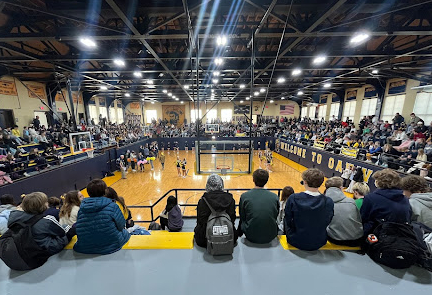 This week, Oakwood held their annual winter spirit week and pep rally, as students dress to impress in order to get the crown for spirit queen and king. It all leads up to the big rival Bellbrook game this evening in the Pit at 7:15 p.m. 
During today's pep rally, students were amped up for the game. Activities included cheerleader routines, each grade level being pitted against each other in chants led by the cheerleaders as they competed to be the loudest, and complementary music from the band. And of course, the spirit queens and kings were crowned with two people from each grade 9-12 voted for by cheerleaders as well as two teachers who were voted for by students. 
Each person who received a crown worked hard for the bling, spending five days dressing up in different outfits. Monday was Mental Wellness Day, Tuesday was Sports Day, Wednesday was Country versus Country Club, Thursday was Rhyme Without a Reason Day and Friday was Blue and Gold Day 
But the spirited students aren't the only ones who have worked hard because they are joined by the boys varsity basketball team who has also worked very hard this entire season with a 14-4 record. As the time ticks down until the game this evening, Oakwood students are hoping for the best and to beat Bellbrook.