People live when people give
Dec. 2 marked Oakwood High School's yearly blood drive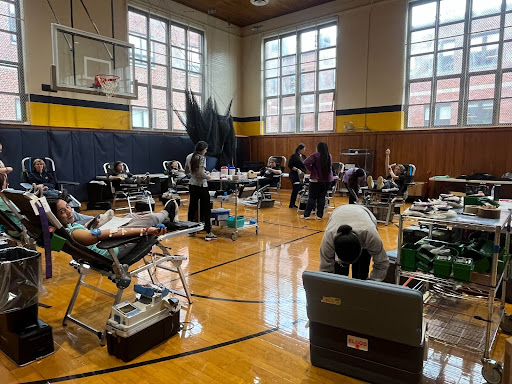 Sixty-two kids signed up for the community blood drive on Dec. 2, and 53 of those were first time donors with only 45 being able to make it through the screening process and give their blood. This totals to a potential 135 lives impacted in just one day.. 
"Giving blood can help save three people and it's a good time," Max McCloskey (12th) said.
The blood drive was organized and run by the student council.
"I had to make the sign up genius and slideshow and focus on explaining to the student body why donating blood is so important so that our school could impact the community," Laila Blumer (11) said. 
Not only is giving blood good for people in need, it can also help keep you healthy. By giving blood (and being a regular blood donor) you can lower your risk of heart attacks and strokes. When giving blood you also are essentially getting a free screening which can help flag any health issues you might not have been aware of, according to Health Matters.
"Screening takes 20 minutes, taking your blood takes 15 minutes max, if it takes longer than that we can not use the blood," Mckenna said, a nurse from the Community Blood Center.
While many people signed up, not everyone was able to give. If you have ailments such as a cold/flu, low iron, or you're on certain medications, have recently traveled or were recently vaccinated then you will not be able to donate according to Complete Care. Twenty kids here were not able to donate. 
"I wanted to save lives. I'm sad because I wanted to donate but I understand why I couldn't," Brynn Jefferis (12) said. 
If you want to give blood you can visit the Community Blood Center located at 349 S Main St, Dayton, OH 45402. Help save lives today and be one of the estimated 6.8 million people in the US who donate blood every year. (Red Cross Blood)