Timeless traditions
Students and teachers share their views on Thanksgiving, as well as share their annual traditions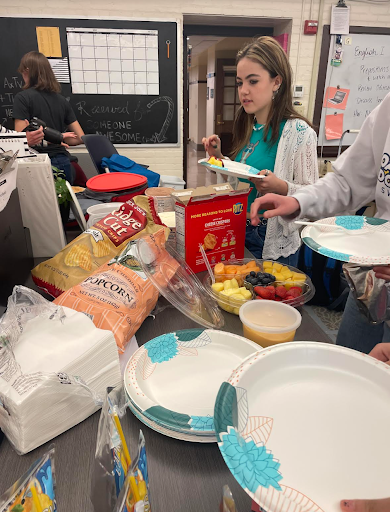 Last week, students and teachers looked forward to Thanksgiving, and were excited to finally see family and old friends, and indulge in traditional Thanksgiving food they only get to enjoy once a year. 
"My favorite Thanksgiving food is stuffing because this is the only time of year that I eat it," History teacher Amanda Ammer said. "It reminds me of my parents, and you can be really creative with recipes for it."
There are many different foods on Thanksgiving, not just the basic turkey and stuffing. Sometimes, one family member makes a dish that brings whole family together
"Green beans [are my favorite] because my great aunt makes the best ones. Southerners know how to make their green beans," Sophie Todd (10) said.
For many families, Thanksgiving recipes go back generations, and each year, they work to make their delicacy even better than the last. 
"We always make sauerkraut, which is unusual, but is a Pennsylvania Dutch tradition that my family grew up with on the east coast. I also make a concord grape pie, which is fun and a little different, special for the fall," Ammer said. 
Unlike Christmas, Halloween and many other holidays, Thanksgiving is about being grateful for what you already have rather than receiving more. It is not just about the food, but rather a day dedicated to being thankful and realizing how lucky you are. Many people, like French teacher Marie Jergens, like to use this day to reflect on the privileges that we have.
"It is a reminder of being thankful for the things that we have," Jergens said. "We are very blessed in the US with a lot of the things we're able to do and a lot of the situations we're able to live in so I just like to remind myself in November to take a second to be grateful for the things that I have."
Thanksgiving is also a time of helping others. There are many organizations and groups dedicated to collecting goods or money for those in need.
"We always donate a Thanksgiving meal to our community through an organization called Just a Little Lunch," Ammer said.
If you have the resources, there are many organizations in Montgomery county and places around Oakwood, such as food banks like Just a Little Lunch and Shared Harvest that would be extremely grateful for even more donations of food, money, and clothing.