Students begin a "Cookie Cookie Cookie" business
Work brothers deliver homemade cookies right to your home, so you don't have to do all the work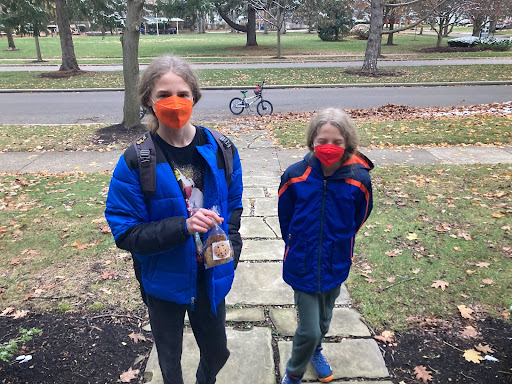 "Cookie Cookie Cookie" is a business started by Kian Work (9) and Sean Work (7) designed to make the process of buying cookies easier, by placing an order through a Google Form and getting it delivered to your home.
The student-run business was inspired by Kian Works' brother, Sean Work, due to the fact that Sean likes to bake. The brothers decided to try to get their friends involved, get some orders from them, and then decided to get more people involved by sharing their business, and cookies, with others. 
"We tried to get primary orders from close friends," Kian and Sean Work said. "And then just tried to get other people to order."
After they started the business, emails were sent out to the students , trying to get more people to buy cookies. This email was the point where more and more people started to acknowledge the student-run business, and began to purchase from it. With the current amount of cookies sold being at a little under 200, there seems to be no plan on stopping this business any time soon. 
"Baking is fun and of course, we make a little money from it and it does not take up too much time," Kian Work said. 
Students seem to appreciate the fact that more and more students are creating their own businesses. 
Kay Handler (9), a supporter of the cookie business, assisted them in sending out an email to the school to attract people to "Cookie Cookie Cookie." Handler thinks that student-run businesses are great because they teach important lessons, and skills that will benefit people in the future. 
"I think a student running their own business at school is an excellent idea because it gives them experience with a lot of important, mature concepts," Handler said. "It's also a great way to earn money in a creative way." 
Kian and Sean Work are motivated to continue their business, and are excited for what's to come in the future. 
"It is very fun and it makes us a bit of money so we will continue," Kian Work said.