Ukraine versus Russia
What the next few months might mean for Ukraine and Russia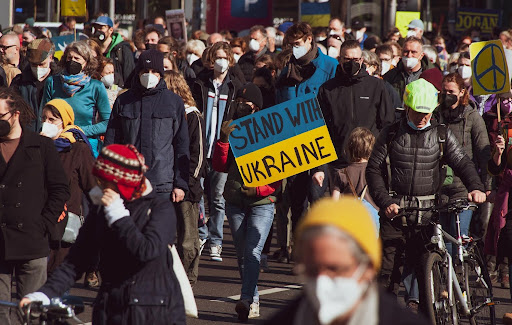 Since Russia invaded Ukraine about ten months ago, the war has only escalated. Drone strikes, blackouts and other dangers have caused thousands of deaths and made millions into refugees. While Ukraine is gaining ground and rumors of dwindling weapons supply in Russia circulate, Russia seems to be losing the war, according to AP News. Yet a quick end to this conflict is not likely. New developments occur each day and with different impacts on the war. Nuclear technology remains a fear, and recently Moscow claimed that Ukraine possesses a dirty bomb- an explosive containing radioactive material. While this is not as deadly as a nuke, it would cause damage for miles, according to AP News.
On Oct. 24, Ukrainian President Volodymyr Zelensky discussed the rumors in his daily video posted to his presidential website: "If Russia calls and says that Ukraine is allegedly preparing something, it means only one thing: Russia has already prepared all this," Zelensky said.
With so many problems and fears, it is difficult to predict what will happen next. Winter comes with disadvantages for both sides. 
"The Russians don't seem to have equipped their soldiers very well for it [winter]," AP Gov teacher Matt Deters said. According to Deters, the captured city Kherson is likely to be retaken by the Ukrainians in the coming months.
Social Studies teacher Mitch Miller compares Vladimir Putin, president of Russia, to Adolf Hitler in the 1930s. The Crimea Peninsula, along with almost all of the Donbas (Eastern Ukraine), have been annexed by Russia. 
"You now have Republicans and Democrats saying we need to have peace talks," Miller said. "Well, the only peace talks are going to end with Russia getting to keep what they took. And of course Ukraine is vowing to take it back."
Despite the severity of the war, many students do not keep up with current events. 
"[I check the news] maybe once a week, if that," Maddie Zito (11) said. 
Being aware of global matters is important especially as students grow older and can understand the significance of different events and conflicts.
"We might have peace, but then what's he [going to] go after next?" Miller said of a possible stalemate between the countries. "He took the Crimea six years ago. Now he's taken Eastern Ukraine. What's he going to take next, the rest of the Ukraine? That would be my guess."
Ukraine seems to be pulling ahead in the war, but its people continue to suffer.
"The world has a ridiculously short attention span," wrote Abhijit Naskar, author and advocate of peace, in his book "The Gentalist: There's No Social Work, Only Family Work." "It cannot stick to any one cause for more than a few days…. Don't be that world my friend, be a better world, a civilized and responsible world… otherwise these events will keep recurring until everybody is six feet under."