Honored To Help Out
Students inducted into the National Honor Society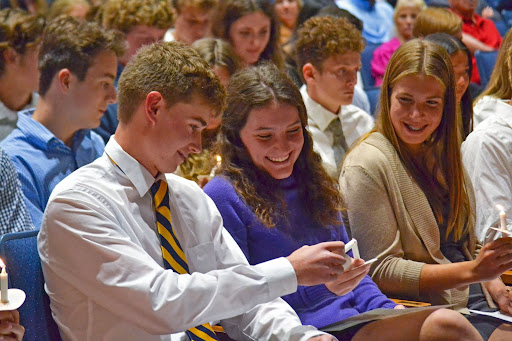 On Oct. 10, National Honor Society inducted 81 new members and recognized them for their academic excellence and ability to participate as leaders in the community. NHS also organizes and participates in various volunteer activities in the area.
"It should be an ongoing practice where they have involvement in the community and have an impact on the school in some way," NHS Adviser Brittany Juhas said.
These students are also expected to practice the four pillars of NHS: everyday scholarship, service, leadership and character. These ideals teach students to give back to the community and be the best version of themselves.
"I think it's really important to have a group of students who can come together that have a shared interest in community service. . . it's nice to have a community that can really talk to each other and depend on each other," NHS student leader Elena Ware (12) said.
According to Ware, like many other extracurriculars and clubs, NHS is a safe space for students to be open with each other and gather to take part in shared interests. 
"It's important to have an organization like NHS just so that things actually get done. . . Especially in high school, there's so many things going on, and it's easy to lose track of things like volunteering in the middle of college apps or extracurriculars," other NHS student leader Grace Bauer (12) said. "So having a set club or organization makes it easier to hold yourself accountable for those things."
Leadership is one of the most important aspects of being a NHS member. It is a heavily stressed ideal that these students exhibit every day. There are also many examples of different types of leaders among NHS, such as Bauer, who shares that she thinks of herself as a quiet leader.
"I think that most people who know me wouldn't peg me as the leader archetype, but I think sometimes having someone who isn't a 'strong' leader can be helpful in some situations," Bauer explained. 
Some students would not consider themselves as a "take-charge" type of person, but still have a charisma to their character that others tend to follow. These student may find themselves leading groups in different ways, silently guiding others to their final goal.
"I hope to spread notions of service [across the highschool] . . . and to make people, be better people." Bauer said.