Academic Team returns with new coach
Academic team begins competing with new faces, hoping to continue winning tradition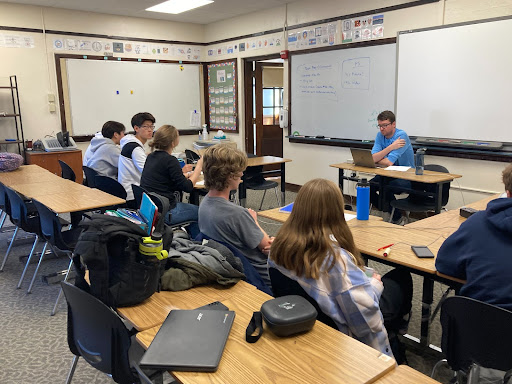 Ian Callon, math teacher, took over the high school Academic Team when John Moore retired last year. After working with the junior high team, Callon thought it would be a good chance for students to learn some facts and trivia about history, literature, math and more. 
"I like trivia, and think it's fun for students to prepare and work on learning different facts," Callon said. 
Callon inherited a winning program, with SWBL sweeps in the 2020, 2021, and 2022 seasons.
Callon plans on holding meetings where team members compete against each other in scrimmages to learn new trivia, or improve on what they already know.  A usual scrimmage has category rounds (themed around a particular topic), a letter round (all answers pertain to a certain letter), and a lightning round where students have a buzzer they use to indicate if they have an answer.. 
"Occasionally, we will have a study session if we are coming up on a big tournament," Callon said.
Tournaments for Academic Team involve other schools going against each other in a scrimmage that is bracketed.
"It's a good intellectual challenge for them [the students]," Callon said. "It's fun to compete with a team so you're not on the spot…you can always talk with your team." 
Team members get a chance to connect with each other over facts, and data during these scrimmages.
The scrimmages that take place include everyone, not just people with good grades, or a high IQ. There are questions on pop culture, and current events that anyone could answer. This also helps to grow bonds between students, and gives a sense of belonging to the team members. 
"It's a fun way to hang out with friends and answer Jeopardy questions," Austin Choi (12) said.
If students want to join the Academic Team, visit classroom 307 on Mondays and Thursdays during lunch and advisory, and talk to Callon about joining.