Oakwood felled in homecoming match
Jacks put up a fight against Devils, final score 35-14
At the start of a weekend of festivities, the Jacks faced the Brookville Blue Devils on Oct. 4 for the annual homecoming football game at Mack Hummon Stadium.
Both teams were held off from scoring for most of the first quarter, but things heated up in the last two minutes. With just 1:27 on the clock, Brookville scored a touchdown.
Almost immediately after this score, wide receiver Jaiden Spahr (11) ran a 90-yard touchdown on Oakwood's return from Brookville's touchdown. Spahr scored another seven points for the Jacks with 1:13 left in the quarter, tying with the Devils going into the second quarter.
Brookville scored another touchdown just before halftime. As the buzzer ran out, the score was 14-7 favoring Brookville.
During halftime, the homecoming court presented the golf cart floats and threw candy to the fans. Student council then announced the 2019 homecoming king and queen, seniors Luke Wilson and Kathleen Conrath.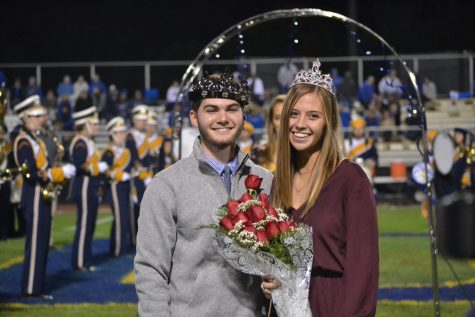 After the homecoming court left the field, the marching band performed for the rest of halftime, including songs such as "Sweet Caroline" and "Hey Baby".
Brookville scored two more touchdowns in the third quarter, at 10:33 and 5:09 respectively, bringing the score up to 28-7 at the end of the quarter.
With 8:59 left in the fourth quarter, the Devils scored yet another touchdown, bringing the score to 35-7. However, running back Mason Talarczyk (11) rebounded with a touchdown for Oakwood with 3:57 left in the game.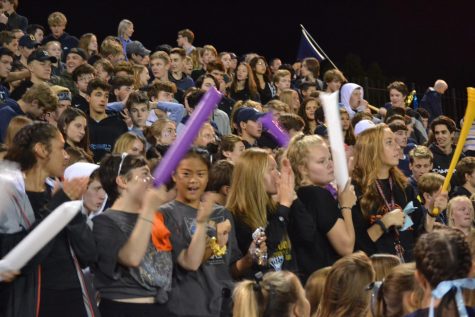 The game ended with a final score of 35-14, Brookville. The Oakwood marching band and alumni band performed a post-game show together, finishing out the night with songs such as "Can't Hold Us", "Sweet Caroline", and "Hey Baby".