Application hustle
Upperclassmen discuss their experiences and give advice on the college process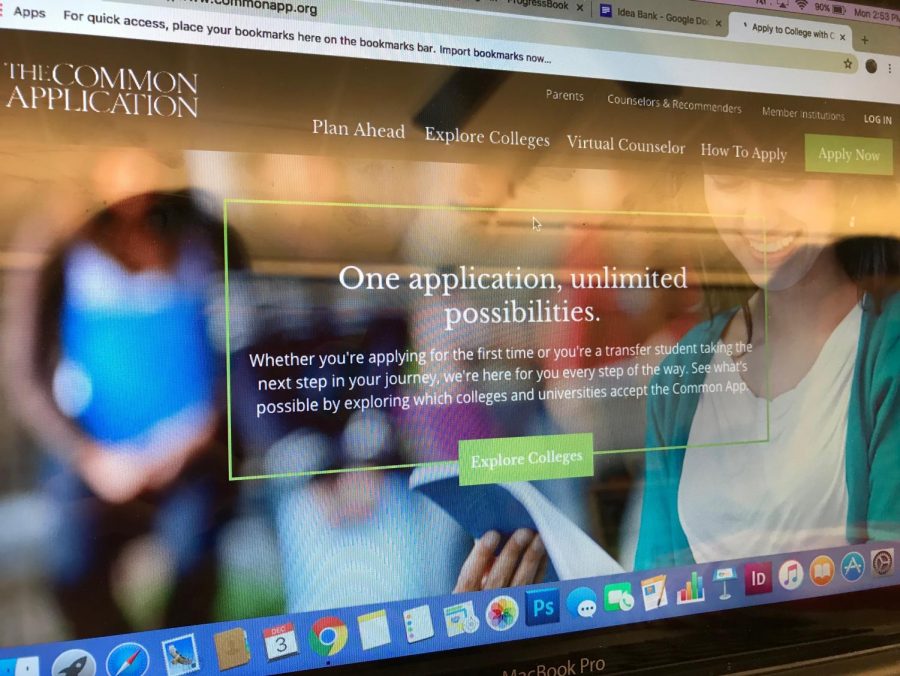 Tis the season! These familiar three words are often used when talking about the holidays, however, there is another event that takes place in the fall and winter months that may be just is important, and that is applying to colleges.
As students make the transition into senior year, there is an increasing amount of time spent in weekly class meetings with counselors and teachers in order to prepare for the coming workload of college applications. Students deal with the collection of essays, resumes, and testing differently and frequently hold a common goal of meeting their deadlines with ease. Once senior year arrives, the necessary work may seem overwhelming, but many students seek help and advice from adults and friends to tackle the process feeling more prepared and supported.
Hannah Grushon (12) began working on her applications in June and throughout the summer. After getting a head start on her search, by the start of senior year, Grushon had already decided with certainty where she wanted to attend school through a binding Early Decision agreement that included playing on the school's field hockey team.
"I actually applied to only Earlham college because I have known where I was going since August," Grushon said. "It made it much easier."
With little difficulty, Grushon was able to apply to her first and only choice school. She did not have to complete any extraneous materials or requirements in order to be accepted.
"All I needed was the typical counselor's recommendation and letters of recommendation," Grushon said.
As a result of her overwhelmingly positive experience, Grushon did not have to seek frequent help from friends or family.
"I really didn't have any major problems that required going to counselors for help," Grushon said. "For me, the process was pretty easy."
However, applying to college does not just require filling out The Common App, but includes extra work such as filing for financial assistance and trying to receive scholarships. Grushon hit a few bumps when sifting through the information required for completing the Free Application For Federal Student Aid, commonly known as the FAFSA.
"It has been the most lengthy part," Grushon said. "I had to go through my mom's tax forms, which was tedious."
Grushon attributes her pain-free experience to narrowing down her search, avoiding procrastination and making time to visit schools.
"Make time to visit schools so you get a feel for campus, because that really helped me make my decision," Grushon said. "Additionally, starting early definitely helps you have more time to visit."
Fellow senior Mary Kidwell had a different experience. Applying to eight colleges total, she has been working since she has been allowed too.
"As soon as the common app prompts came out, I created my Common App account," Kidwell said. "I have been working on essays since around August."
By applying to prestigious schools such as Duke University and applying to the honors college at every school, Kidwell faced stricter deadlines and more rigorous required material. The requirements have limited Kidwell's ability to apply to all of her original choices.
"I was originally gonna apply to Washington University, but I decided since it didn't offer my major, that was just another school and more essays on top of the stress," Kidwell said.
For Kidwell, the most difficult part of the application process has been finding the time to edit her many essays to meet her deadlines on time.
"Definitely tweaking my Common App essay, which goes to all the schools, was challenging, as well as trying not to cry!" Kidwell said.
Kidwell believes the most important advice to give to fellow students that will be involved in the application process is to be mindful of the load you chose to carry and your own limits.
"I would say don't take on more than you think you can handle," Kidwell said. "Time management is key, so don't wait until last minute to do your essays, as you will have more time to tweak and perfect them if you start early."
When she needed help, Kidwell sought assistance from trusted adults and close friends.
"I often went to my Dad to help me make the necessary edits to my essays," Kidwell said. "I have of course asked my friends a few questions about details I could not remember and a lot of times I have emailed my counselor Mr. Woessner with questions regarding my application and transcript status."
Faced with the approaching responsibility of college applications, junior Ben Collinson has put time into searching for future schools.
"I have looked at colleges but haven't done any visits yet," Collinson said. "I have definitely researched what programs some colleges have and have attended some college visits located at the school."
Though aware of the pressure of applications, Collinson does not yet feel it is currently appropriate to begin the official writing and applications.
"I wasn't planning on starting fully until I was more aware of where I want to apply to," Collinson said.
Though he has not visited schools of interest, Collinson has a good idea of where he wants to apply based on his area of interest he wishes to pursue with a higher education.
"I want to apply to Ohio University and University of Cincinnati because they both have really good acting and performing arts programs," Collinson said.
Collinson has been exposed to feedback from upperclassmen who have experienced the college process first-hand, and Collinson has taken in their advice for the future.
"I have heard it is stressful, and that deadlines come faster than you expect them to, so get started early," Collinson said. "I have been told not to overload myself, and to be wise in where you apply to, as not everything is viable."
As seniors polish their applications while anxiously awaiting approval and juniors begin their application experience, students should be reassured knowing that there are individuals who have been in the same situation and, with assistance and perseverance, have felt confident with their results. Seniors should be focused on succeeding, but also think about properly balancing their work during their last year of high school.
Kidwell said, "Senior year is time to have fun, so make sure you are getting your college work done and not taking on too much school work at the same time."