Raising the bar
Football team lifts weights in the off-season to improve performance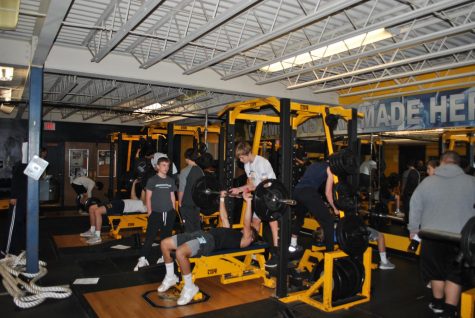 To many Lumberjack fans, the football season ends with the final game. However, for the majority of the players, the work doesn't stay just on the field. Members of the football team have had the opportunity to attend after-school weight lifting sessions three days a week. The ultimate goal of these sessions is to improve the overall performance of the team in the upcoming season.
"We warm up at 3:30, and then during the week we have three core lifts," Timmy Duvic (11), a linebacker and running back, said. "Mondays it's squat, Wednesdays it's bench, and Thursdays it's deadlift. It's usually pretty intense, and then at the end we usually do an ab workout to finish it off."
These rigorous training sessions are expected to have a positive impact on the performance in the upcoming season, with the ultimate goal of improving and developing each player's skills, as well as the skills of the team as a whole.
"You're getting in the habit of being with your teammates and getting used to it for next year," Duvic said. "It definitely helps you in the off-season. It gets you a lot stronger and faster and in better shape."
Coaches highly suggest attending these sessions as an opportunity to improve strength and speed, and participation is even rewarded by small prizes such as candy or t-shirts to help motivate and recognize the athletes.
"This day and age all high school football teams lift weights pretty much all year round," head coach Butch Snider said. "We must commit to it in order to compete at the highest level possible."
This year, due to the scheduling of holiday break as slightly shorter than two weeks, the weight lifting started two weeks earlier than it has in the past.
"It's more time to get more work in, so it's going to help us down the road," Rocco Fiore (11), who plays on the offensive line and as a linebacker, said.
As an additional benefit of this early schedule, it allows for more time to acclimate new team members and be prepared for the upcoming calendar year.
"We could train the younger and newer players on the way we want things done so that we could be ready to go when the new year came," Snider said.
All interviewees concurred that the weight lifting sessions are highly beneficial to individual players in increasing strength, speed, and power. It aims to bring the whole team together in order to work well as a unit, and to hopefully improve the overall performance in the upcoming season.