No more cameos
Marvel Comic Universe icon Stan Lee dies at 95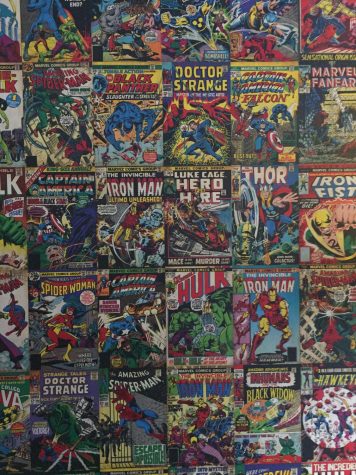 Photo By: Mira Sidhu
Comic Wall: A poster of Marvel Comics hangs in the wall of long-time fan Sam Sidhu's (12) room.
The Marvel Universe suffered a tragic loss on Nov. 12 when Stan Lee, a writer and publisher for Marvel comics, as well as a movie producer for Marvel, passed away at the age of 95.
According to the People magazine's website, the cause of Lee's death was a combination of cardiac arrest, respiratory failure and congestive heart failure. This was released after Lee's certificate of death was released. Lee also had a history of aspiration pneumonia, which occurs when food, drink, vomit or saliva is inhaled into the lungs, People.com said.
During his long-lasting career in the industry, Lee had a profound impact on the progression of comics, creating superheroes such as "The Fantastic Four" in 1961 with artist Jack Kirby, "Spider-Man" in 1962 with artist Steve Ditko, and "X-Men" in 1963 with Kirby. Marvel became well-known with the release of Lee's "The Fantastic Four" series, and Lee became the publisher and editorial director of Marvel in 1972. He continued to create many other characters and storylines throughout his life.
"Stan Lee created a lot of amazing characters, and along with them a complex fictional universe," Ella Jones (9), a long-time Marvel fan, said.
Film adaptations of Lee's comic books began to be produced in the year 2000, starting with "The X-Men" and continuing to include "Iron Man", "Thor", "Ant-Man" and the wildly successful "Spider-Man" films, along with many others. These popular movies often featured short clips of Lee posing as an average citizen, or sometimes just as himself, which many fans eagerly waited to spot while watching, and would often add a humorous element to a scene otherwise packed with action.
"I've been watching MCU movies since around fourth grade," Jones said. "I like how the movies balance comedy and action."
Additionally, through comics and films such as "Spider-Man" and "Black Panther", Lee has portrayed a demographic of people that teens don't often see in the media. The company's powerful teenagers such as Peter Parker from "Spider-Man", particularly in "Spider-Man: Homecoming", and Shuri from "Black Panther" give today's youth rare, relatable characters that are experiencing many of the same struggles with school or family, or who have had the same access to pop culture and show it.
"They are empowered teens, which movies tend to avoid," Norah Miller (9), a more recent Marvel fan, said.
It is appreciated by the young viewers that teenagers in the movies are being cast closer to the character's actual age and more diversely in opposition to the typical white and middle-aged actors who played the teens previously.
"They're representing a lot more than comics used to, and I'd say they're a little bit of a forerunner in that field," Sam Sidhu (12), who grew up on Marvel comic books, said. "One of the biggest ones recently was 'Black Panther', all the main cast was African-American, which was awesome, or even just originated from Africa."
Seeing actors similar to more demographics of viewers in such a widespread medium also gives them representation and may make them feel more understood or confident.
"Something about the idea of representation and having a character like that who is totally unexpected that I think people had been craving for such a long time," Sana Amanat, the creator of Marvel's first Muslim superhero Ms. Marvel, said to CBS News. The character of Ms. Marvel has sold over half a million copies of her books as of June according to CBS.
Marvel's media reach has extended even farther than the comic books and big screens, however. Many teens feel that the world of Marvel has been introduced into their lives in other ways as well.
"The MCU fandom created really good memes, which I can appreciate," Miller said.
Marvel fans will surely continue to mourn the influential Lee who was behind so many of the most popular comics and films.
"His enthusiasm towards helping people and giving people characters to look up to, it was necessary to develop what society is today in that aspect," Sidhu said. "I wouldn't really consider him dead necessarily because of his impact with the Marvel comics and now the Marvel Cinematic Universe, so he's still living on in his ideas."
To see Marvel's tribute to its creator Stan Lee, click here: https://youtu.be/ea4Tq7HB7kU