Dress to impress
Upperclassmen discuss their preparation for homecoming
One of the most prestigious events in the fashion world, New York Fashion Week, recently took place during the second weekend of September. According to Vogue.com, the hot list of designers present this year included Tom Ford, Ralph Lauren, Kate Spade, and Calvin Klein. The outrageous outfits and bold colors of the runway often influence the likes of common people, especially adolescents, who are always looking on social media for the most current trends.
Though they may not be able to afford the high-end style of designer models, students surely find a way to incorporate their own style and current trends into whatever outfit they choose. These personalized styles are confidently on display during the highly awaited high school event of the fall season: homecoming.
 When assembling the perfect outfit, the clothes are the principal part of a formal look from which the accessories are chosen. Retailers like Forever 21, Lulus, Charlotte Russe, and Macy's are all popular outlets to find the most affordable trends. According to Davidsbridal.com, the trendy styles recommended for homecoming this year included floral prints, sequin embellishments, and sleeves. The colors of this fall were colors such as navy and off-white as well as bright palettes such as pink.
According to Beverlyhillsmagazine.com, styles expected to be seen on display this fall included backless gowns and plunging necklines. The embracement of these styles displays a society more comfortable with showing some skin.
Teenagers understand that if you want to make an outfit perfect, you need more than clothes. The accessories, including hair, makeup, shoes and nails, are needed to make an ensemble complete. One of the most noticeable features of a look is the hairstyle. According to Seventeen.com, popular hairstyles this year varied from loose, half-up waves to a tight, slicked up ponytail.
Nails are a must-have detail for homecoming. Manicures and pedicures are common routines before a formal gathering and are often one seen as one of the final touches before homecoming to add an extra sense of glam and coordination. Common styles include acrylic nails and a traditional French tip.
All of these fashion essentials were on full display the evening of Sept. 22, Oakwood's Homecoming dance. One of the most anticipated traditions of the school year, Homecoming allows every student to show their distinct interpretations of style by what they chose to wear. It often takes days to weeks of thought and preparation for students to assemble every part of their look. Eliana Griffin (11) wanted to try something new this year and take a step away from her habitual style.
"I was like 'you know what, let's try wearing this dress because I always wear a certain type of dress so I wanted to try something different,'" Griffin said.
Griffin's dress of choice, a bodycon style, is a tighter, more figure-hugging style that has become more popular among teenagers.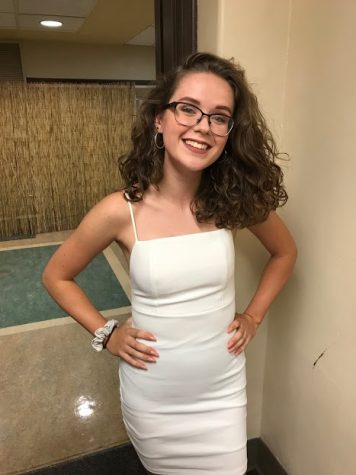 "It doesn't have any patterns. I don't really like patterns because I'm very simple. It's a white dress and it has spaghetti straps," Griffin said.
Griffin continues her practice of simplicity when selecting her accessories, opting to do her nails, hair and makeup herself. She decided to paint her nails a solid, neutral color and to use jewelry and makeup products already available at her home.
"I always do it by myself. I always do my own hair, makeup, nails and all that jazz," Griffin said. My hair is naturally curly, so I just let it do its own thing."
Jaclyn Herd (12) had a different style in mind. She was greatly influenced by model Bella Hadid's style.
"She is so classic. She has got her street style side and then she's got her sophisticated side. I can relate so I just look for like pictures of her," Herd said.
Herd was a little pressed for time and wasn't presented with a lot of options when she bought her dress at a department store. Nevertheless, she was content with her decision.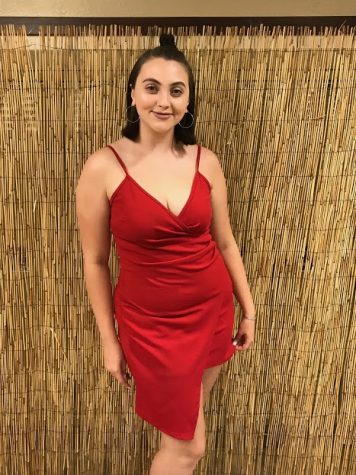 "It's kind of bright red. I didn't really want it to be bright red but that was the only they had that I liked. It's like a wrap dress. So, kind of asymmetrical. I got it at Macy's," Herd said.
For Herd, accessories are a must-have, especially nails and makeup. This year, however, life threw a curveball at her. She was scheduled to work late on Homecoming day, so she proposed getting her makeup and pampering done early before going to work. After work, she ate dinner with friends.
Fellow Senior Coco Zhang decided to take more of a reboot approach, using an old dress from her Freshman Junior Assembly dances and making it new again.
"It's pretty plain actually, just a really simple red dress, has a lovely flair but I do have plans for it," Zhang said.
After seeing pictures of flower dresses over the internet, she decided to take the trend and make it her own.
"There was one in particular that stuck out. It had silk flowers attached all around it, creating the impression that the flowers made up the skirt," Zhang said. "I took a leaf from their book and decided to do something similar to mine!"
Zhang often finds herself doing her own makeup and hair at home in order to fit her conflicting schedule.
"I've always gotten ready by myself," Zhang said. "I'm probably just going put the finishing touches on my dress, and then get ready a couple hours beforehand."
This year, Zhang has decided to make a more simplified approach to her accessories to let her outfit take center stage.
"Sometimes I'm a little more ambitious with my hair but I think the dress is gonna have the spotlight this time, so I'm just curling my hair pretty simply," Zhang said.
Fashion comes with no requirements but is instead full of recommendations. Everybody has a different taste. There are plenty of distinct styles and colors to choose from in order to make the perfect outfit. There is an abundance of ways to make yourself look the absolute best. Oakwood's 2018 Homecoming was a great example of the inclusion of diversity in fashion. Based on this year's demographic, there will surely be a kaleidoscope of new fall trends on display next year, and the beauty is that none are ever the exact same.