The Bolshoi sets the stage on fire in Flames of Paris
A review of the Bolshoi's Flames of Paris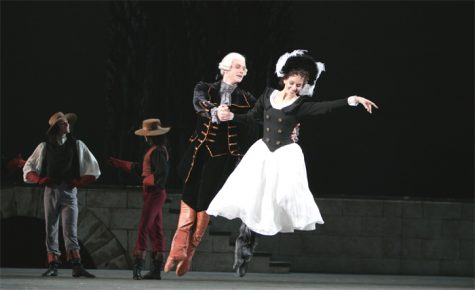 Flames of Paris is a classic ballet that's found new life on the modern stage. Originally crafted by Vasily Vainonen in 1932, it was choreographed by Alexei Ratmansky, the director of the famous Bolshoi Ballet, in 2008. Since its revival, Flames of Paris has made itself part of the Bolshoi's repertoire.
As the name implies, the ballet takes place during the French Revolution, and follows the story of two uprisings. The first is led by Jeanne, a peasant girl, in the port city of Marseille, where she rallies the townspeople over the unlawful imprisonment of her father. In Versaille, a second, more quiet revolt takes place as Mireille, an actress, uncovers a plot by the aristocracy to quell the Revolution. Both heroines meet in Paris, where revolutionary forces, using Mireille's secret information, storm the palace. Jeanne leds the charge, and the ballet ends with a massive celebration in the Paris square, the people victorious over the oppressive old regime.
I was able to witness Ratmansky's masterpiece, even though I was far from Moscow. In a partnership with Fathom Events, the Bolshoi broadcasts live performances to select theatres across the world, allowing an international audience to see the Bolshoi's star-studded cast.
The leading role of Jeanne was played by up and coming and newly appointed principal dancer Margarita Shrainer. Shrainer made headlines less than two years ago when she had an atmospheric rise from corps de ballet member to principal, performing the lead in Don Quixote at Covent Garden Opera House in London. It was a promotion, in my opinion, that she deserved. Shrainer dances with such virtuoso energy, it seems impossible that she could keep it up for four acts. She's not out of control by any means, as she dances with enough precision to cut diamonds. Shrainer particularly shined in the Basque Dance, where she trades her pointe shoes for leather boots. Dancing with the two male leads, Shrainer had no difficulty keeping up with their sky-high leaps, and bravura movements.
The whole cast had to be sharp, the movement demanded by the relentlessly pounding music, all energetic ballads based off of revolutionary songs. And, typical of the Bolshoi, they delivered. Unlike some productions, the company has never had to make up for shoddy dancing with bright lights and pretty costumes. The Bolshoi's workaholic attitude and top-notch performance quality is what keeps casual fans and balletomanes alike coming back for more.
Overall, Flames of Paris is a ballet that gets one's heart pumping and inspires a revolutionary response in its audience. The dancers of Bolshoi Ballet lived up to their reputation, delivering a performance so clean you'd think they popped out of a Vaganova textbook, and Shrainer proved she has a permanent place in the spotlight. Their partnership with Fathom Events is something I'm grateful for, and I look forward to their production of Giselle starring Svetlana Zakharova in April.
For more information on Fathom Events, and the upcoming performance of Giselle, visit fathomevents.com.
By: Mira Sidhu