Behind the Blonde
The cast and crew of "Legally Blonde" prepare for performances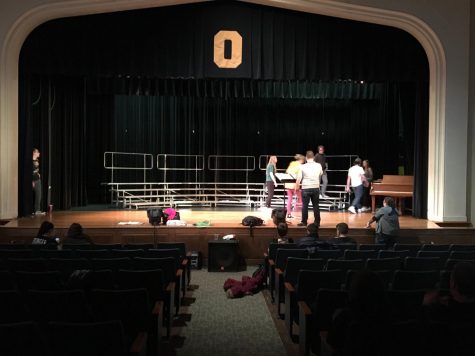 This year, the Lumberjack Theatre plans to perform "Legally Blonde" on March 15 through the 17. With rehearsals that started Jan 17, director Michael Wadham had the students building a strong family-like relationship from the start.
According to the actors, the feeling of musical rehearsal can be compared to a family atmosphere. Participants support each other and create new relationships when rehearsing.
"I feel like we are definitely more of a family than anything else… There's definitely no malice but we all sort of want to protect each other," actor, Phoebe Martin (10) said.
Wadham also makes it a priority to have the cast and crew get along and feel comfortable. One activity the students participated in entailed them pairing up and talking to partners for a few minutes, then introducing that partner to the rest of the cast in their own words. The cast had time to play games that helped them bond while learning about spacial awareness on stage as well.
"I insist that the students get along.  It is essential that the cast work together as a team, and respect and encourage each other. To be successful as an actor, you must make yourself vulnerable, and you can't make yourself vulnerable if you aren't comfortable with the people around you," Wadham said. " This is why we spend so much time on and emphasize group cohesion and kindness. If there are any personality conflicts or negativity, it is swiftly dealt with to maintain the students' positive experience and preserve the production's integrity."
Wadham has been the spring musical director for ten years directing a total of 14 productions at Oakwood so far. Wadham choses the musical each year, revealing the choice at the annual One Act Festival.
 "We have an enormous population of extremely talented girls, and I wanted to select a musical with enough roles to highlight as many of them as possible. Even this show, which has more roles for females than any other I know of, doesn't even have enough to show all of them off as much as we could," Wadham said.
The cast so far has gone through some of the music and dances being incorporated in the musical. The actors have been doing blocking rehearsals as well, which is when actors map out scenes to understand where they move on stage.
"We have been rehearsing for a couple months now," Senior, Zoey Pittman-Jones, said. " Rehearsals are always chaotic and crazy, with everyone trying to learn their music but it's a really fun time and we've been getting a lot done."
The students in the musical enjoy being part of the production. They often encourage other students to join the musical as well.  
"It's such a good experience and everybody is very close and supportive and so if [a student is] thinking about it: absolutely do it," Martin said.
Just as the students encourage their peers to join the musical, the administrators and directors look forward to seeing new faces each year.
"I would tell anyone who is interested in joining theatre that participating in a Lumberjack Theatre performance is more than learning lines and getting up in front of people and performing," Wadham said. "If taken seriously, theatre should increase your capacity for empathy, relationship building, self-confidence, self-discipline, self-awareness, critical thinking, and creativity, all of which are essential life skills which will move you quickly up any ladder you choose to climb later in life."
Ticket information can be found in the senior high office or tickets can be purchased at the door on March 15 through the 17.

By: Ale Garcia