Student singers sparkle in the holiday concert
For many, listening to carols is an annual tradition that comes along with the holiday season. On Dec. 13 community members came together to partake in the annual tradition that is the holiday concert. This year's concert showcased Symphonic Chorale, Concert Choir, as well as The Axidentals and Synergy.
    The night began with the Concert Choir singing three holiday songs including, "Hanukkah Wish" with Coco Zhang (11) playing the violin, followed by "Still, Still, Still", and "Have Yourself a Merry Little Christmas". After this, the Symphonic Chorale sang six songs. They started with "African Noel" featuring Frank Calzada (11) and Nick Shafer (11) on percussion and ended with "Carol Of The Bells".
    "It was actually a lot of fun. I enjoy choir. It's one of my favorite classes," Symphonic Chorale member, Emma Cartwright (10), said. "It was pretty fun just to be up there."
    The acapella group, The Axidentals, sang "I'll Be Home" by Meghan Trainor with featured soloist Elizabeth Rubino (9). The group also showcased their rendition of Mariah Carey's "All I Want For Christmas Is You", with soloist Lauren Jacoment (9).
    "It was difficult memorizing words and tunes, but none of us did anything wrong," Gabby Stauffer (10), a member of The Axidentals, said. "I love [being in The Axidentals]."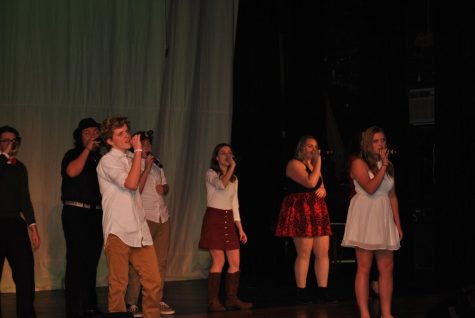 The night ended with the acapella group, Synergy, singing four songs featuring soloists, Brooke Lanning (9) and Andy Danis (9) singing "Winter Wonderland", and Jaclyn Herd (11) singing "Snow Globe".
    "It's surreal; it's my last  winter concert with Oakwood. It's kinda sad," Senior Synergy member, DJ Calzada, said. "It's so much fun being in the group cause you're with nine to ten people who love doing the same thing you love doing and I think we did amazing tonight."
    The audience stood and cheered at the end of the performance and congratulated the singers when the concert was over.
    "Of all of the concerts, we have the least amount of time to prepare for is the holiday concert  as opposed to the Fall and Spring concerts." Jeremy Storost, choir director,  said. " I thought they did an outstanding job."
By: Ale Garcia