OMUN teams prepare for competition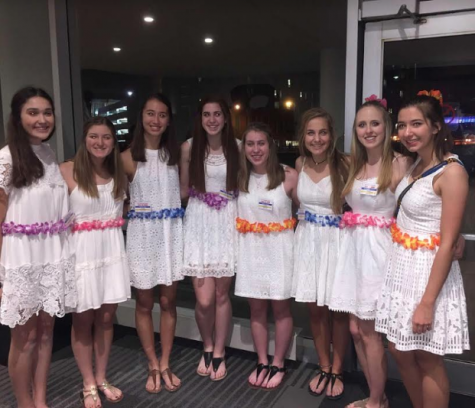 Each year, students across Ohio gather in Columbus for the annual Ohio Model United Nations (OMUN) competition. OMUN is an organization where students role play as members of the United Nations, each representing a different country. Teams research their designated country, create resolutions to solve issues within their country, and present their resolutions in General Assembly, a meeting of all the teams, in hopes their resolution gets passed. Each team also has the option of performing a talent from their country, such as a dance, and there are smaller competitions in essay writing and speeches.
"We listen to [teams] speak about human rights issues in their country," Lia Frisbee (11) said.
This year, the competition takes place from Dec. 3-5 and Oakwood teams are gearing up. To prepare, teams meet frequently to edit their resolutions, practice their talents, and check in with their advisors, teachers Bridget Fiore and Mindy Hoffer. Unlike the junior high OMUN, high school groups are not required to have weekly meetings, and thereby create their own schedule.
"In the beginning of the year, we really buckled down to come up with creative ideas for our resolution to give it a good chance of getting passed in competition," Julia Mullen (11) said. "We're one of two Oakwood groups performing a talent, so currently we're refining our dance."
During competition, teams stay overnight in hotels near the conference hall. During the day, teams listen to and vote on resolutions, as well as perform their talents. During the evening, teams attend events planned by the organization, such as a dance. At the end of the competition, there is an award ceremony. Teams can receive awards for best talent, best revolution, and best essay, among other things.
"I've bonded a lot with my teammates," Mullen said. "Seeing all of our hard work come together is truly rewarding."
By: Mira Sidhu