Orchestra prepares for Cherry Pie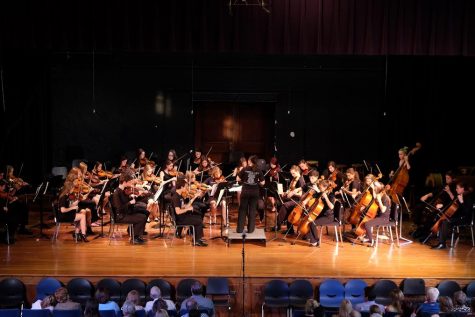 The annual Cherry Pie event is the most anticipated concert for the orchestra throughout the entire year. This is not only because of the pie served after the performance, but because the concert showcases grades six through twelve and honors the year's orchestra seniors. The orchestra recognizes the seniors through a special slideshow.
Meredith Depew, the conductor and orchestra teacher, began preparing for the concert in the middle of February. Depew began working alongside the performers on learning the pieces and honing skills so that by the time of the concert, they have their pieces polished and ready to play.  
"We got our pieces well in advance and start breaking them down and working through each piece. We work on perfecting it by the time the concert comes along," Depew said.
This year's concert theme is pop music along with some songs from movies. The movie scores used include Star Wars, Beauty and the Beast, as well as a compilation of Pixar films. In years past, themes have included Around the World which featured music from different cultures and Different Pieces Throughout Time which included older pieces as well as modern and classical.
"I'm looking forward to playing Far Away Place, which is the song the orchestra plays every year during the senior slideshow, and I'm excited to eat the pie at the end," violin player, Grace Smallwood (11) said.
Since the concert features multiple grade levels, there is a lot of thought, effort, and organization applied. While Depew deals with the music, she has outside help from parents as well. The parents chip in with donations and call Dorothy Lane Market to help get pies so that everything can come together smoothly for the concert.
This year's Cherry Pie concert will be memorable for Depew, as she will taking maternity leave next year.
"It's fun to see the progression from sixth to twelfth grade. Seeing the very beginners that just started this year to the kids that have been playing for years. That growth over time [is my favorite thing about Cherry Pie]," Depew said.
At the end of all the performances, all grades come back together to play "Ode to Joy" as a whole before getting to the pie. This year's concert is on Tuesday, May 9 in the auditorium at 7 p.m. and is open for the community to come and watch as well as enjoy the pie afterwards.
By: Caroline Daniels