Digital goodbyes
Seniors say goodbye to one another during COVID-19
The recent COVID-19 virus has been detrimental to the senior's final year in high school. Everyone was stuck inside with not much to do, and things are opening, but normal is still far away.
Over the past few months, things have looked pretty sour, but everyone had their own ways of staying positive. Some choose to use iMessage or FaceTime, while others with more introverted personalities didn't see much change and stayed inside playing video games or watching YouTube. Nevertheless, school work has been keeping every student busy.
Fortunately, Jonathan Duff (12), Ellen Behnke (12) and Phoebe DuPuy (12) were kind enough to give insight into their experience with social distancing and how they pulled through during the last few weeks of senior year.
"This pandemic certainly hasn't been easy on anyone," Duff said. "It has been hard to deal with not being able to hang out with my friends or do a lot of the senior year things I had planned to do, but I understand there's a much bigger picture. As much as I want to hang out with my friends before going off to college in June, I understand how important it is to follow the rules and stay home so this all ends quicker." 
Due to social distancing, seniors were stripped of the many activities they normally partake in during the end of the school year, like senior prank day and formal graduation.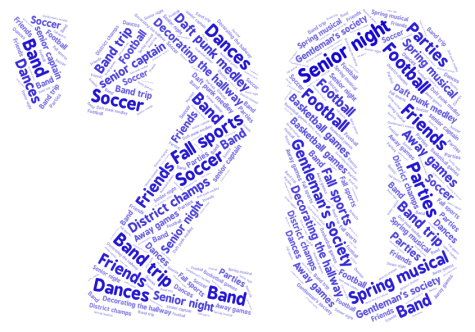 Unfortunately, some seniors have been struggling more with social distancing than others.
"I've been struggling with not being able to see my friends every day and talking to my fellow classmates. The lack of interaction with my peers has been a very difficult reality to deal with," DuPuy said. "I use social media, FaceTime, Zoom, and iMessage to stay in touch with my friends and classmates. Although technology doesn't replicate the same experience as actually spending in-person time with my friends, it has been able to get me through these unusual times. Ultimately, I try to remain optimistic towards the future and hope, in time, everything will return to normal."
As of now, the future is still unsure.  Come fall, seniors could find themselves across the country.
"It's especially upsetting because my friends and I are all going to different colleges this fall," Behnke said. "Only being able to talk to people over FaceTime or Snapchat makes me sad in a way, it's weird not being able to have human contact besides my family. I've gotten to see my friends once when we sat far away in our cars at Lane Stadium but it just wasn't the same."
Difficulty can easily come from dealing with the fact this could be some friends' last goodbyes in person, but according to Duff, it's all a matter of perspective.
"Believe it or not, there have even been a few positives from the stay at home order. I've had a great time with my family over the past several weeks watching movies, playing cards, and doing things outside. I've been able to get my school work done, workout for football, and still have plenty of time each day to just relax, which is time that is usually rare to come by during the school year," Duff said.
Some seniors just haven't let social distancing get them down, and have been doing everything they can to keep their head up, expecting a brighter tomorrow.
"I know that these times are far from ideal for everyone, but I think it is really important to just do what you're supposed to do and to keep a positive attitude,"  Duff said. "It's really obvious that these times are terrible, but saying that all of the time only makes it feel worse. I focus on what I'm grateful for in these times and trust it'll all get better soon."